It's golden season in Colorado—that means everyone's a photographer trying to capture the illuminated beauty of fall color all around. So how do you snap that perfectly glowing aspen grove or transcendent tree-lined view? We asked our contributors and other local pro photographers for some tips on taking perfect fall color photos. Whether you're using a smartphone or DSLR, here's how to set your Instagram account ablaze.
Location, Location, Local
Sure, mountain towns can provide sweeping panoramas, but you don't have to drive two hours to get a good shot. Local pros Scott Majors and James Van Hoy recommend practicing around the Springs. Staying close to home gives you a variety of easy-to-reach locations and conditions. And Van Hoy recommends shooting in different lighting, weather and angles before traveling up to the mountains. "Go out in different kinds of weather," he says. "Don't go out in the same conditions all the time, because you never know what you're going to find once you get out there. You really need to take pictures in all kinds of conditions."
Perfect Timing for Fall Color
"Specific to fall colors, I highly recommend that people get a super early start," says landscape photographer Matt Payne. "The sun produces different light at different times of the day, which is especially noticeable in the early morning or in the late evening at golden hour, the hour preceding sunrise and after sunset, and blue hour, the hour before and after golden hour. Photographing at these times can produce especially aesthetically pleasing images."
Peak leaf color usually happens between late September to mid October in Colorado, but varies depending on weather, location and elevation. For a searchable U.S. Forest Service map of the foliage progression, watch www.fs.fed.us/fallcolors.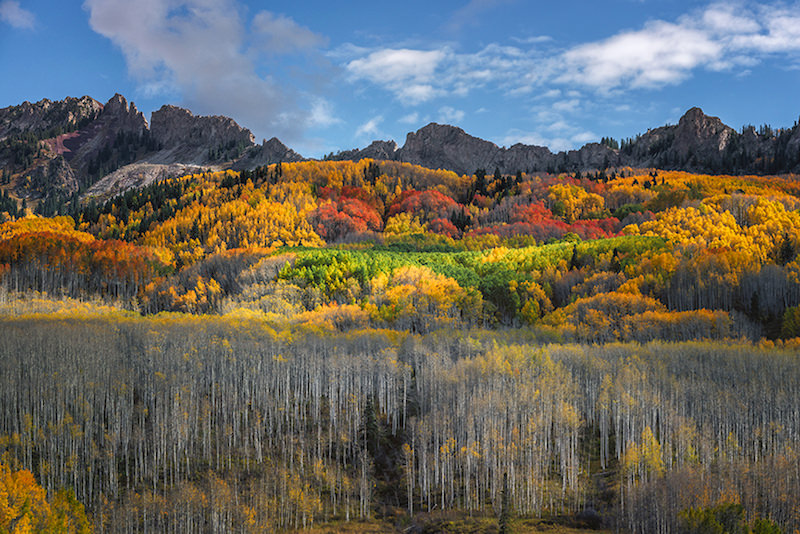 Smartphone Settings
It's the camera that's always with you, but Van Hoy says it's important to know your settings, beginning with High Dynamic Range setting on your camera app. HDR takes multiple pictures and automatically morphs them into a single photo with more detail in the shadows and sharper highlights. Look for it on your camera screen or settings.
Photo-editing apps are another easy way to elevate your shutter skills. Here are a few free photographer-recommended starters:
Prisma: Transforms or enhances your photos with the appearance of fine-art painting or illustration.
VSCO: Excels at giving your photos the elegant look of classic and analog film.
Snapseed: Swipes and gestures offer serious enthusiasts detailed control over details.
Zoom In
Be creative, and set your autumn images apart with a new angle or perspective. Aspiring fine arts photographer Reggie Hennesy says start by focusing on close-up detail. "A lot of beginners tend to lean toward wide-angle shots, when it's not always necessary," he says. "[Telephoto lenses] give you a lot more perspective; they give you more detail. You can isolate certain things in the image that show fall."
Social Studies
If you really want to improve your skills, learn from others. Payne says he learned by asking photographers whose work he admired. "Don't be shy; reach out to them," Payne says. "Most photographers don't have a problem talking hours on end about that stuff, because it's their passion."
Both Payne and Van Hoy suggest joining Facebook groups that report on fall color conditions, including Colorado Photography Learning Group and Colorado Springs Creative Photography Group.
---
Sweet Spots for Fall Color
Here are some pro favorites for spectacular scenery. For more, check out our Favorite Fall Color Drives and 10 Favorite Fall Hikes In and Around Colorado Springs.
Near
Monument Valley Park: Leafy, grassy landscapes set among mature tree-lined streets that tend to hold late color.
Mueller State Park: Easy to reach aspen groves with Pikes views to boot.
Florissant: The start of the Gold Belt Scenic Byway.
Far
Dallas Divide: Along State Highway 62 between Ridgway and Telluride lies the stuff of cinematographers' dreams.
Gunnison-Crested Butte: Drive a stunning loop on Ohio Creek Road over Ohio and Kebler passes and back through Crested Butte.
---
Read More
When and Where to Catch Peak Color in Colorado
11 Pumpkin Patches in Colorado Springs to Get You Pumped for Fall
Best Things to Do in Colorado Springs This Fall