Crestone is one of those spots that many people have heard about, but never actually visited. Nestled against the Sangre de Cristo Mountains at the easternmost edge of the San Luis Valley, it's a place of striking natural beauty where a sojourner can find an unexpected side of the state.
While not exactly remote—about two and a half hours from the Springs, just off State Highway 17—it's also not the sort of place you can just stumble upon. To get to Crestone, you have to set out specifically to get there.
Spoiler alert: It's totally worth it.
Founded as a mining camp during the Colorado Gold Rush, Crestone found itself well on its way to becoming a ghost town when the gold was gone early in the 20th century. Things began to change in the 1970s when Maurice and Hannah Strong fell in love with the area. Both were global leaders in environmental conservation and spirituality. He was a Canadian industrialist and founding director of the United Nations Environment Programme. The couple created the Manitou Foundation to provide land and money for religious groups prepared to move to the area.
The area has been considered sacred by Native Americans, including the Navajo and Hopi, for centuries if not millennia. Now Crestone is home to a large assortment of spiritual groups fostering wisdom traditions and interfaith dialogue. The enclave, population about 150, is a choice destination for tens of thousands of pilgrims seeking retreat and environmental stewardship. A Zen temple stands a couple of miles away from a Hindu ashram, just a dirt road away from a ziggurat.
There's also a UFO observatory about a half hour out of town. "A UFO observatory?" I asked a friend who frequents the area. "Seriously?"
"Everything comes together in Crestone," he said mysteriously.
Whether you're a spiritual seeker, outdoor adventurer or simply curious wanderer, here's a triad of activities to guide your Crestone odyssey.
Hit the Colorado Beach
Our first stop was the Great Sand Dunes National Park and Preserve. The massive sand mountains come into view miles away. Dwarfed by the snow-capped Sangre de Cristos behind them, the dunes look from a distance like a choppy beige lake. It's only in the park that you see their magnitude. The result of winds pushing massive amounts of sand particles toward the mountains, the dune field encompasses 30 square miles and reaches as high as 750 feet.
Kids and parents slide and sled down the sand mountains as if they were snow. The shallow Medano Creek runs by like a flowing beach, carrying early-season runoff from the nearby mountains.
Know Before You Go: The Park is open 24/7, $15 per car. Late May and early June usually provide peak flow for Medano Creek as snowmelt runs down from the nearby Sangres. Bring running shoes in summer—that sand gets hot!
Explore the Spiritual Side
As most everyone in Crestone is ready to tell you, stupas were traditionally large mounds of earth that honor spiritual teachers buried inside, but they have become temple-like Zen monuments believed to confer blessings on those who build and visit them.
"It's weird to find such a thing out in the middle of nowhere," I commented to a fellow pilgrim taking in the view at the grand Tashi Gomang Stupa, better known as the Stupa of Enlightenment.
"This is the middle of everything," she said with a knowing smile. "Can't you sense it?"
After a brief visit to the Crestone Mountain Zen Center, and a drive past the Blazing Mountain Retreat Center—the retreat home of the Dharma Ocean Foundation—we drove to the end of a dirt road and walked a picturesque half mile to the remote Crestone Ziggurat.
"A ziggurat," I overheard a sixth-grader inform his parents "is a temple on a raised platform with steps." He had probably seen pictures of them in school, massive stone structures dating back to ancient Mesopotamia. The Crestone version is neither as large nor as ancient, but impressive nonetheless. We climbed to the top and looked out at the mountains and what felt like the whole of the valley. Stunning.
It felt like the middle of everything.
Know Before You Go: Find a listing of Crestone's spiritual centers at saguache.org/spiritual/crestone.html. Most welcome public visitors, but it's best to call first, as some centers are closed at various times.
Make Contact
Our last stop along the pin-straight, two lane Highway 17 was the UFO Watchtower. Opened by cattle rancher Judy Messoline in 2000, it's a combination gift shop and observational platform with 360-degree views of the San Luis Valley.
Judy greeted us warmly and told us about the long history of reported alien activity in the area. It started in the 1960s with sightings of fast-moving cigar-shaped spacecraft and peaked in the mid-1970s, with a spat of cattle mutilations.
Because of the cover provided by the mountains, Judy says, the valley was the perfect place for the aliens to perform experiments. Activity has slowed, apparently, but still goes on—she showed us a large three-ringed binder where visitors record their own close encounters.
"And," she told us, "there's an ET base in the mountains."
Know Before You Go: Watch for signs on the west side of Highway 17, about two and a half miles north of Hooper. The watchtower is open year-round, though it's best to call ahead in witer: 719-378-2296. Admission is $2 per person or $5 per car. The best times to talk close encounters with Judy are weekends 10 a.m. to 4 p.m.
---
Where to Stay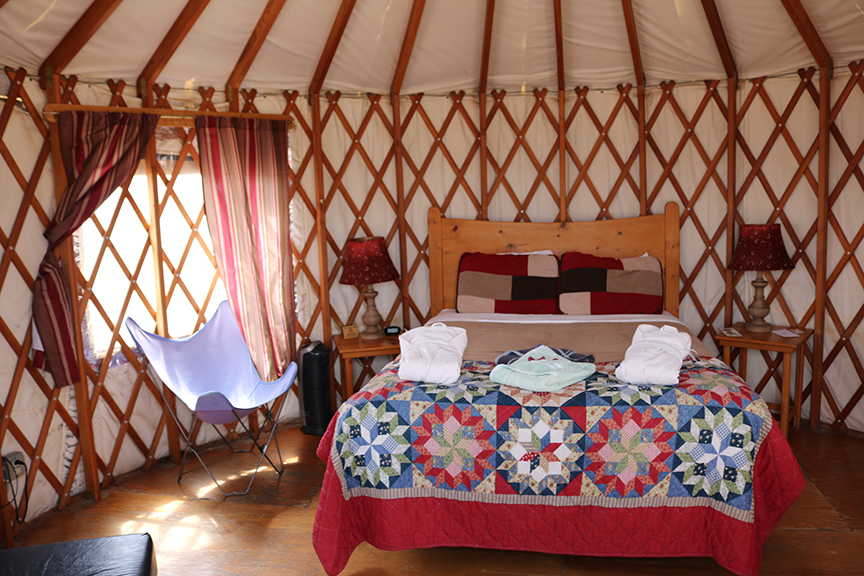 Lodging options are scarce in Crestone, though they do exist. Airbnb and VRBO offer options for self-catering houses, and some spiritual centers accept overnight visitors. But Joyful Journey Hot Springs is a nearby best bet, complete with soaking.
Joyful Journey accommodations range from tipis to hotel rooms, but opt for a yurt if you can get it. Spacious, rounded and high-ceilinged, the fully furnished yurts give you the feeling of camping and staying in a five-star hotel at the same time—OK, minus the in-room toilet. Consider it glamping. Book about a month ahead if you're looking for a weekend stay. Stop for a soak or spa treatment even if you don't stay overnight. Info at joyfuljourneyhotsprings.com.
---
Where to Eat
Don't miss breakfast at the Desert Sage restaurant, especially the huevos rancheros smothered in bucket list worthy elk chili. For local beer—or kombucha—stop in at Crestone Brewing Company, where you can also try a local yak burger.