Born and raised as a Dallas city boy, Stephen Martin joined the Army in 2005. After seven years of service, he decided to make the move from his final station at NATO headquarters in Brussels, Belgium, to Colorado Springs, home of some family friends and an exercise science degree program he was interested in pursuing at UCCS. Little did he know that this move would not only turn him into a proud—and very public—papa of a rescue pup, but also a hiker of 14ers and a professional photographer.
A former barista, Martin's first Instagram account was @ollieandcoffee, but he says the photos of his dog, Ollie, had a 5-to-1 ratio of likes over the coffee shots. It became obvious a change was in order. After some training in photography for Martin and training for Ollie in posing, the new Insta-account @explorewithollie was born. Today more than 12,000 followers keep tabs on the pair's adventures. We caught up with Martin to find out more about his and Ollie's ongoing journey.
Springs: How did Ollie come to be in your life? 
Stephen Martin: Ollie showed up that winter [2012]. … My sister is a veterinarian … she was working at a Banfield [Pet Hospital] in Denver in the Littleton area. The adoption agency I got Ollie through is called Every Creature Counts, out of Denver. What they do is go to shelters that don't have the capabilities to move dogs around to get higher visibility for adoptions. … My sister had gone that Sunday morning to work early … and she saw him outside. She and I had talked about, in the spring after I finished a full semester of school and got my legs under me after the military and all these things, that she would allow me to adopt a dog—she's very strict about adoption and nonbreeders and stuff like that. So she's walking in Sunday morning, sees him, he's adorable. We had a two-month timeline when we were going to start looking, and she just picked him up and said, "My brother will be here in two hours."
I really did want a dog—more so, as I've learned now later on, to kind of be my companion transitioning out of the military… having somebody there while I'm doing all these new things.
Were you also not a hiker before Ollie?
No. Not at all. I'm born and raised in Dallas; I'm a city boy. Until I joined the Army, my family had no real military history. I'm the random one. I never hunted. I'd never touched a gun before the Army. I didn't really have that in my nature. Now getting outdoors, doing stuff like that in the Army, was different, kind of forced, but I enjoyed it. … When I did my first 14er, I hated it. I really hated it. I did Mount Harvard, and when I got to the top I was like, I don't even know if I enjoyed this. It took 7 miles to get up here, now it's going to take 7 miles to get back down. My knees were really hurting. I was new to it. And that was 2013. I had just gotten here. …
I didn't really know anything about hiking with dogs—per my friend, Ollie was not ready to do something like that, and maybe would never be able to.
So I'm like, well, I'll give it a go. We did training hikes, where we hiked around Colorado Springs. We went up around Lake Dillon area and did a three-hour hike. I worked him up to it, because in my mind, I thought he might not be able to do it.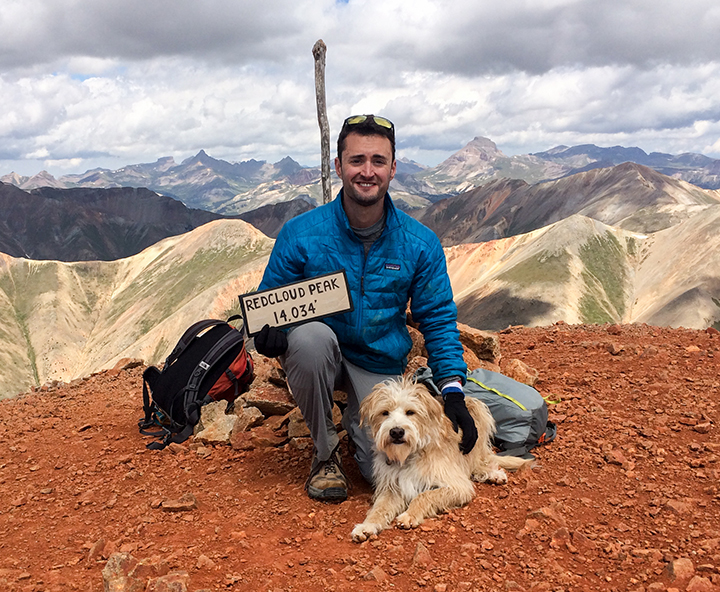 And then we did Belford and Oxford, his first two 14fourteeners, my second and third. … Now we've done 29 together, straight. I've never done one [since the first] without him in three years.
So is the plan to do all 53 of Colorado's 14ers then? 
The plan, if possible, is to do as many as I can. And this maybe ties in with that I'm not an avid hiker. It's still very new. I am very afraid of heights, and I get super-uneasy when I'm even up on ledges.
So, you know, there's nothing to prove; there's nothing to gain any more than I feel I already have. Everything from this point on is still just so enjoyable and such a great experience. I don't need a stamp of approval from my followers or any of that. I just enjoy the engagement I have with so many of them all the time.
Does Ollie get any special treats when he's done climbing a 14er?
He only really eats treats when we hike. He'll drink water; he loves drinking out of creeks and he loves lying down in creeks … which is such a big change for him. I feel like we grew up in this together, because I remember, I think it was Grays and Torreys [Peaks], heading out super-early in the morning for a sunrise and having to pick him up over a creek bed and carry him because he wouldn't cross. He hated water when we started. This lying in the creeks and enjoying it thing came out of nowhere, and I was astonished. … He got comfortable, and I got comfortable as we started doing these together. I think nine of them have been up and sitting on the peak for an hour or two hours before sunrise. Like we leave out at 3 in the morning, and it's cold, and he's cold.
And he's like, "Why are we doing this again?" 
Yeah, but we get to the top and he looks around. I know dogs see in dichromatic color, so I don't know what a gorgeous sunrise really looks like to him. But he'll sit there on the rock next to me, and he'll just look out, and I watch him enjoy it. I feel like he knows … when we reach the top. … There's got to be something internal for him that makes me feel like he knows we've accomplished this together.
Follow Ollie and Stephen's adventures on Instagram @explorewithollie