Summertime is the perfect time for outdoor patio eating and drinking in Colorado. Enjoying a cool breeze under a sprawling umbrella or soaking up those last rays of a Rocky Mountain sunset can add magic to an already favorite eatery. And don't forget those views that never quit. Here's a handful of prime patios well worth pulling up an outdoor chair.
Sopra Antipasto & Wine Bar
The brand new rooftop restaurant and bar delivers a surprisingly good view of Pikes Peak above the Old Colorado City landscape. Chef and owner Franco Pisani describes his latest venture as perfect for date night. Sure, you can make it a drinks and apps warmup before dining at downstairs Paravicini's Italian Bistro, but sharing the tapas style small plates and a bottle of wine will leave you lingering under the night sky.
4 N. 28th St.
719-471-8200
paravicinis.com/sopra
Springs Orleans
If you yearn for a little urban cool—a la the Big Easy—the cozy alley patio between this restaurant and the Mining Exchange, A Wyndham Grand Hotel & Spa delivers a romantic Old World vibe, award-winning Cajun cuisine and seating for about 50 in the heart of Colorado Springs. And don't miss those pillowy beignets!
123 E. Pikes Peak Ave.
719-520-0123
springsorleans.com
Hacienda Colorado
Enjoy this University Village restaurant's custom margaritas and Mexican cuisine on its rooftop patio, which wraps around a central covered bar for those rare inclement summer days. The stunning views of Pikes Peak come gratis.
5246 N. Nevada Ave.
719-418-7999
haciendacolorado.com
Restaurant 1858
Nestled in a rocky box canyon at the banks of Seven Falls, this Broadmoor eatery's patio is a unique foray into the area's pristine wilderness. You sit only steps away from views of the thundering waterfalls (and a large trout pond). Evenings offer light shows on the cascading water. Note that you must park at the Broadmoor's east lot to catch a shuttle, and you'll need a Seven Falls ticket to access the restaurant.
6 Lake Ave.
844-843-1858
broadmoor.com
Burrowing Owl
This folky vegan hot spot on the westside offers an intimate, dog-friendly sheltered patio with deeply tasty food and loco-good cocktails—some even made with vinegar. It's like hanging out on your hipster friend's back deck with way better eats and drinks.
1791 S. 8th St.
719-434-3864
burrowingowllounge.com
Till Kitchen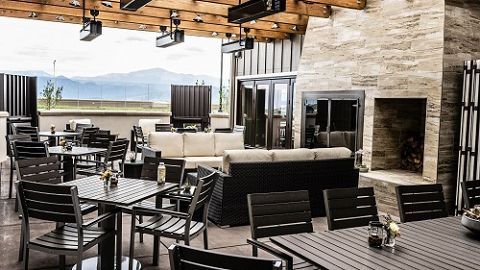 Perhaps it's not surprising that this gorgeous mega restaurant on the city's northeast side has an al fresco area fit for a House Beautiful cover. The wood-burning fireplace, lounging area and tables have virtually unrestricted views of the mountains and our Technicolor sunsets.
9633 Prominent Point
719-219-8550
tillkitchen.com
---
Coquette's Bistro
The gluten-free darling's south downtown relocation is complete. And one of its highlights is a shady and sweeping front patio that flows through roll-up garage doors into the casually elegant indoor and hip lounge. Even the gluten tolerant will want to linger for late night drinks and the expanded menu of uber yummy gluten-free cuisine.
616 S. Tejon St.
719-685-2420
coquettesbistro.com
---
What? You Still Want More?
Here are five more Patios We Love.