One of my favorite things about Colorado is the abundance of managed, wild places. The Centennial State is not lacking in the parks department. But with four stunning national parks, Coloradans can tend to overlook the 42 state parks. Sure, there's that $7 daily entrance fee, but it's a small price considering the amenities and preservation it provides. Or consider getting that annual pass to explore them all with unlimited access. You don't have to go far. Start with these six state parks in or near the Pikes Peak region.
Cheyenne Mountain State Park
Where: Colorado Springs
Trails: 18 totaling nearly 22 miles
Trail Ratings: Easy to moderate
Main Activities: Hiking, camping, biking, archery, horseback riding
Why Visit: Despite being located in the Springs, Cheyenne Mountain State Park gives a great escape from city life. You can find big views overlooking Fort Carson, or get tucked away on the outer trails and feel like you're deep in the mountains. Go full weekend warrior and camp out, or just go for an evening stroll.
Being so close to civilization also means lots of park offerings. There is Yoga in the Park every Monday, Wednesday and Saturday from 9-10:15 a.m. And the Trail Challenge prompts you to complete all 21.87 miles of trail within the park—or aim for 100 miles—at your own pace. Simply register at the visitor center, where kids can also learn about wildlife and participate in the Junior Ranger program.
Details: cpw.state.co.us
---
Lake Pueblo State Park
Where: Pueblo
Trails: 3 totaling about 15 miles
Trail Ratings: Easy
Main Activities: Boating, sailing, kayaking, stand-up paddleboarding, fishing, camping, biking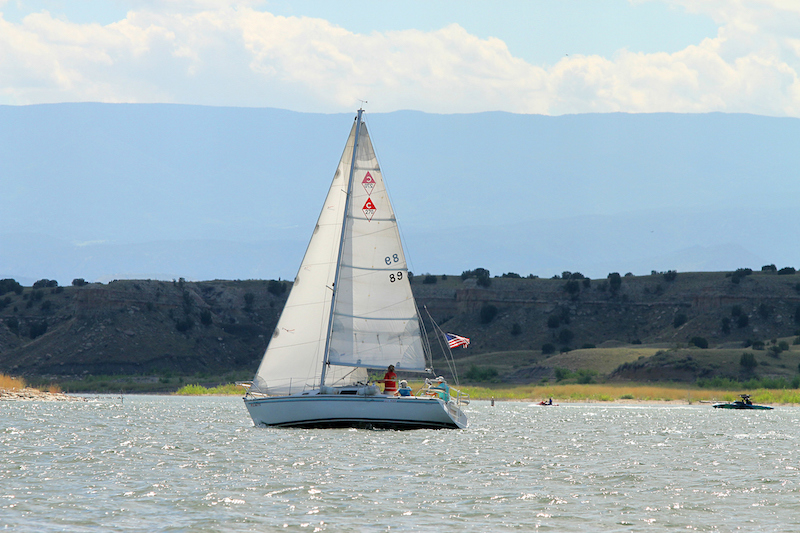 Why Visit: Beat the heat and head to the res. This state park is all about the water. Pueblo tends to be hotter than much of the surrounding areas, but out on the reservoir you won't even notice. With plenty of water activities to do, you can stay cool with a quick dip even on those 100-degree days. You can rent equipment or bring your own.
The public beach is a great place to relax and bring the little ones, and swimming is allowed at the Rock Canyon Swim Beach. Or venture out on any kind of watercraft and find your own private cove for a picnic. Lake Pueblo provides over 4,600 surface acres of water, 60 miles of shoreline and almost 10,000 acres of land. It's a fishing hot spot, and you know the fishing is good when there is a hatchery within the park.
Details: cpw.state.co.us
---
Mueller State Park
Where: Divide
Trails: 44 trails cover 55 miles—with 27 miles designated for horseback riding and 19 miles designated for cycling
Trail Ratings: Easy to difficult
Main Activities: Hiking, biking, horseback riding, wildlife viewing, snowshoeing, cross-country skiing, hunting, camping
Why Visit: Close to the western shadow of Pikes Peak, Mueller State Park has over 5,000 acres of meadows, forested ridges and several ponds. Start out at the visitor's center to find a great and in-depth look at the park's wildlife and plant life. Then head to one of the many trails and hike to some of the best overlooks around. Two great examples are Raven Ridge Overlook (1.4 miles roundtrip via Trail #7 Outlook Ridge to Trail #8 Raven Ridge Overlook) and the Grouse Mountain Overlook (.8 miles roundtrip via Trail #16).
Mueller is one of the few state parks that offers cabins to rent year-round. Reservations are required for these fully furnished log cabins. Or you can reserve a regular camping spot and bring your own tent or trailer. Pets must be on leash and are only permitted on certain trails.
Details: cpw.state.co.us
---
Eleven Mile State Park
Where: South Park, west of Lake George
Number of Trails: 5 trails cover nearly 5 miles
Trail Ratings: Easy to moderate
Main Activities: Fishing, boating, windsurfing, camping, hiking, cross-country skiing, hunting
Why Visit: Looking for a great place to fish Gold Medal waters? Want to reel in rainbow, brown and cutthroat trout or land a trophy northern pike or kokanee salmon? Eleven Mile is a favorite spot for anglers year-round. The diehard turn to its ice fishing when winter freezes the lake solid.
But even non-fishers can enjoy the waterside hiking and camping. Nine campsites offer many options along the shore, from full electric hookups to hike-in sites. Just be sure to check the park website for any wildlife alerts. Bears have been active this year, so food storage regulations are in place.
Details: cpw.state.co.us
---
Spinney Mountain State Park

Where: South Park, east of Hartsel
Trails: No developed trails, just shoreline fishing trails
Main Activities: Fishing, boating, birding, picnicking
Why Visit: Spinney Mountain Reservoir is another fishers' favorite, with a little more remote experience to the west of Eleven Mile. Anglers head here for Gold Medal waters and a peaceful, scenic setting with panoramic views of the Collegiate Peaks. The water covers 2,500 surface acres. But take note that it's a day-use only area, with no camping available. Birders come to spot rare and endangered species, including bald eagles, peregrine falcons and white pelicans.
Details: cpw.state.co.us
---
Castlewood Canyon State Park
Where: Franktown
Trails: 15 trails cover nearly 14 miles, with many options for longer loops
Trail Ratings: Easy to difficult
Main Activities: Hiking, birding, rock climbing, picnicking
Why Visit: This unique park to the northeast of the Springs protects a part of Colorado's history. Remnants of the Castlewood Dam are still visible; the dam burst in 1933, sending Cherry Creek into a 15-foot wall of water that flooded downtown Denver.
The park and canyon are tucked away along State Highway 83, and its unique geologic formations draw city dwellers looking for a relatively quick, quiet escape into nature. It also draws turkey vultures. During the summer, the park has one of the largest populations of the giant birds in the state. Climbers come for up to 60-foot walls, but there are seasonal closures to protect bird habitat. The natural amphitheater with Pikes Peak views and the Bridge Canyon Overlook gazebo offer beautiful backdrops for weddings and ceremonies. But it's worth noting that there is no camping allowed in the park.
Details: cpw.state.co.us
---
Read More
Best Trails: Must-Do Hikes in Colorado Springs
Splash Into Summer at Colorado Springs Splash Parks