The concept was simple: Gather 16 brews from the multitude of high-quality craft brewers in town; have a panel of average Joes and Janes blind taste them head-to-sudsy-head in a fun, straightforward beer bracket. The result: a local Beer Bracket Champion and a chance for everyone to vote via Facebook for a People's Champion. The winners: all local lovers of good beer and the brewing heroes behind every ounce of liquid alchemy. You can
read more about the contest and the early rounds in "Springs Beer Bracket."
Here's how the Final Four went down—and the announcement of the champions!
FINAL FOUR
Colorado Mountain Brewery: Roller Coaster Red vs. Storybook Brewing: Little Red's Rocking Ale
It became clear in the early rounds that the majority of our panel favored malt over hops, and red ales fared well as a result. So it was no surprise to see these two advance to a Final Four showdown. Really, it could've gone either way. But the Roller Coaster adrenaline rush came to a stop, and Storybook finished this round happily ever after with a narrow 5-4 victory.
Fieldhouse Brewing Company: Sticky Paws vs. Triple S Brewing Company: English Porter
This was an intriguing match-up of opposites. The rich, dark coffee tones of the porter brought the strong, inside game of a team stacked with bigs. The smooth, sweet kiss of the honey wheat played like quick, darting guards on the perimeter. The porter had vocal fans, but some still smarted from what they saw as its first-round upset over the imperial stout. In the final moments of a tournament, anything can happen, and this opposites game tipped toward the lighter variety by one: 5-4. Fieldhouse pressed forward to the championship round.
CHAMPIONSHIP
Storybook Brewing: Little Red's Rocking Ale vs. Fieldhouse Brewing Company: Sticky Paws
It all came down to this: Little Red's caramely biscuit against Sticky Paws' unfiltered yeasty sweet. Two worthy opponents, but only one could cut down the nets. By this point in our contest, the growlers were running low as the clock ticked late. But there was Sticky Paws in the glasses from the last Final Four match and just enough Rocking Ale to go 'round. With a final swirl, taste and swallow, the vote came down 5-4. Sticky Paws prevailed. Confetti cannons fired. Fans stormed the court. Highlight reels rolled. OK, we made up the last part.
But the champion of the first Springs Beer Bracket was crowned: Fieldhouse Brewing Company: Sticky Paws.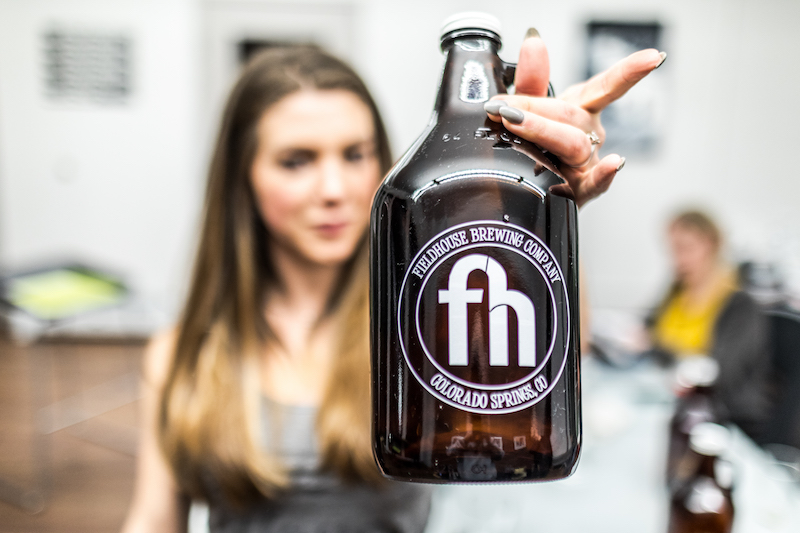 THE PEOPLE'S CHAMPION
Meanwhile, in bars and breweries all over Colorado Springs… We wanted to know your favorite, so we opened up the voting over the weekend. All Sweet 16 were in the running, but it seems that most people contained their votes to the Final Four. Anyone could sink a 1-point free throw, but a check-in at the brewery brought the sweet swish of a 3-pointer. Colorado Mountain Brewery's Roller Coaster Red nailed the highest 3-point total, pulling in 21 of a total 30 votes from check-ins. Storybook's Little Red's Rocking Ale brought in an evenly split total of 30. But it was a small-batched brew that made a surprise first-round exit in our tasting that claimed the people's title with 35 points for its coppery, clove and apricot Belgian.
The People's Champion: Nano 108's Belgian Dubbel
Our congratulations to the winners!
Our thanks to all the breweries who participated!
Our challenge to readers: Grab a few growlers with friends and try your own Final Four blind taste—or go for a full Sweet 16—then let us know your results.
Our victorious gloating for all beer lovers everywhere: Colorado Springs boasts a full field of excellent craft beers. That's a win for us all.
Here's one last enlargeable look at the full field. And you can read about the head to head matchups here.