Spurring a Creekside Renaissance
Picture walking out of the new hotel on South Nevada and walking over a bridge to Prime25. The trail follows Cheyenne Creek, and all around it are eclectic little restaurants, maybe a breakfast all-day place, a burger place, a coffee shop, lots of creekside dining. It kind of looks like a mini Breckenridge or Vail. That's our vision there. You won't even recognize South Nevada any more. It's going to be beautiful.
We just opened Prime25. In four or five months we're going to start Prime Italian, also on South Tejon. Across from Edelweiss will be brownstones and apartment complexes. The hotel will be going up across the creek from Prime25. By the Blue Star will be condos. We just started digging for Canyon Creek Townhomes on Cheyenne Boulevard, and we have pretty much sold almost all 19 units.
I think it's going to turn the whole city around—plus the Olympic Museum and how beautiful that will be downtown. It's going to take Colorado Springs to another level. It's nice to see everybody getting together and saying, "Hey, I'm going to build these apartments; I'm going to build this." The change feels positive. I definitely see it as a renaissance for the city.
Kathy Guadagnoli, designer
---
Preparing a Diversified Workforce in Real Time
As an economist, I see various positive metrics that indicate our region is experiencing the robust growth that has typified the Denver, Boulder, Fort Collins regions, but that has eluded us until recently. In the past, Colorado Springs has been heavily reliant on one or two sectors, such as the military or tech industry. Now we are having significant job increases across various sectors, and both job growth and diversification are essential to sustainable growth. In fact, we are well below the national and natural unemployment rates—meaning that future job growth will be dependent upon our ability to properly train our workforce.
To this end, a group of local, workforce-related organizations such as the Pikes Peak Workforce Center, Pikes Peak Community College, UCCS, the K-12 system and others have created a workforce asset map. Last year, these organizations identified a need for a tool to inventory all of the training programs, from K-12's high school career-track programs to four-year degrees. These various training programs are then compared to local job openings on an ongoing basis. The goal is to meet workforce needs while assuring that Colorado Springs is properly training the workers of today and tomorrow.
The web-based tool will be used by training organizations to refine training needs as identified by the data. It will also help local or relocating businesses find local talent. And students will be able to make informed decisions about their own career pathways based on real-time labor demand information. The workforce asset map is indicative of how Colorado Springs is leaping ahead and positioning itself for future growth.
Tatiana Bailey, Ph.D., Director UCCS Economic Forum
---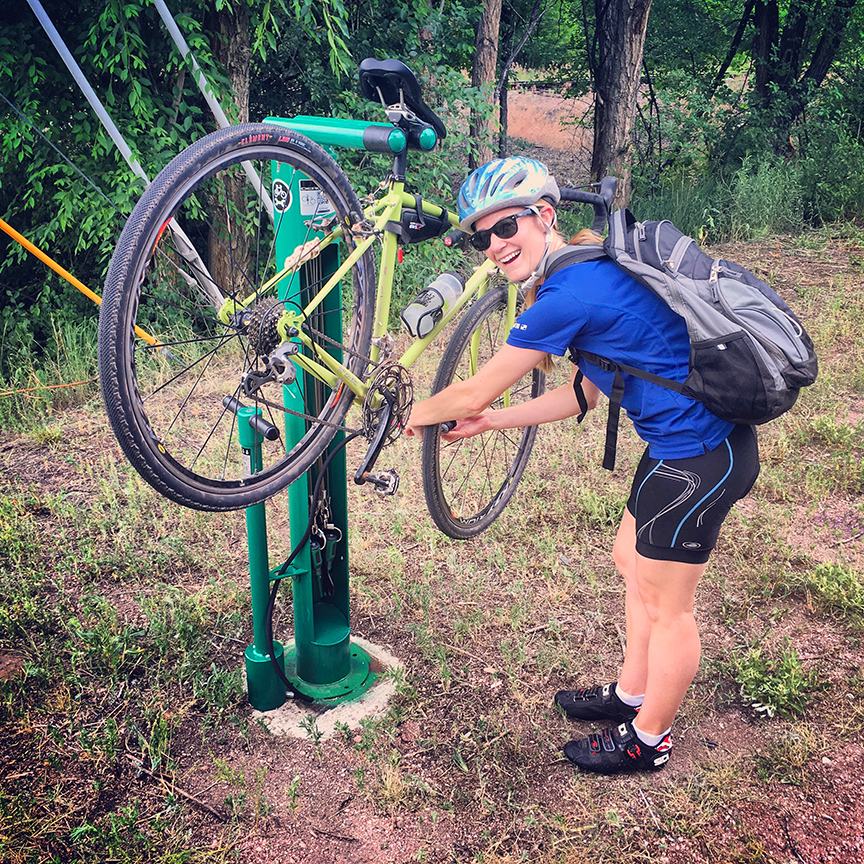 Connected Trail Network
We have a trail system that rings our core with the Legacy Loop and reaches out for many miles into the far-flung reaches of our nearly 200-square-mile city. Our trails are an amenity that can move us beyond just pure recreation—they truly are the main arteries of a stellar, separated, nonmotorized transportation system. If we complete the connections between many of these trails, we can continuously link the multitude of neighborhood access points with our downtown core—then people could easily choose to bicycle as a form of transportation. Cycling to a park or local store could be as accessible as a trip typically taken by car.
Allen Beauchamp, Education and Encouragement Chair, Co-Founder, Bike Colorado Springs
---
World-Class Trails and Bike Center
The Missing Link Trail will make a connection between Barr Trail—across the face of Pikes Peak and the Cog Railway, under Lake Moraine—and Jones Park and the Cheyenne Canon trail system. This is the most significant project we've undertaken, following 20 years of advocating for the connection. The new 4.5 miles will be some of the highest quality singletrack we've ever built, rideable in both directions and providing unmatched views of the region
We are also working with the City's Parks, Recreation and Cultural Services staff to identify the community's vision of a bike center. We imagine that bike center would include features like year-round access to gravity-driven trails, cyclocross and dual slalom courses, would connect to existing trail networks, and provide riding for all levels. There would be a progression of opportunities from kids developmental lines (think of a Strider skills course) through to world-class extreme slopestyle lines. We have the terrain here, and if we do it right, we can create a riding amenity that would attract riders from around the state, nation and even farther.
Cory Sutela, President, Medicine Wheel Trail Advocates; Advocacy, Bike Colorado Springs
---
Tower of Tribute and Remembrance 
Imagine if there were another workout like the Incline located downtown—a place to gain altitude under your own power near America the Beautiful Park and the Olympic Museum. A glimmer of an idea exists for such a destination. Picture a double helix tower of intertwining staircases encircling a LED media mesh-draped core—one side up, the other down. Each stairway could have three lanes across, each with a different riser height, for easy to challenging climbing. Various overlooks would provide views of the park, city, Pikes Peak and more.
The LED lights could be programmed for various displays tied to events and as tributes to the many memorials hosted by our city, such as the annual Fallen Fire Fighter Memorial and Global War on Terrorism Fallen Soldiers Memorial ceremonies. Visitors could take a walk of remembrance up and down the tower while viewing tribute video and images of their fallen loved one. Artists could program the tower for other themes and events. Solar panels and power-generating pressure pads embedded in the stair treads could collect energy to power the light displays. The tower might rise hundreds of feet, serving as a beacon for the city and a place where novice and expert athletes could climb together.
Andrea Barker, Principal, Business Development, HB&A Architecture and Planning
---
Hub of the Space Industry 
We would like to see Colorado Springs become a major hub for the expanding commercial space industry, pursuing the newest ideas and innovations. We are seeing a lot of growth in that area, and the potential impact is truly incredible. This town has dozens of companies employing thousands who have space in their blood. Colorado Springs can and should leverage this fact to attract others who would undoubtedly benefit from our space-savvy business environment. The financial, intellectual and reputational benefits to our community would be significant, to say the least.
We also envision our city drawing other high tech industries. Think research and development facilities; educational institutions; space entrepreneurs and private space travel providers; businesses engaged in adapting, manufacturing or selling space technologies for commercial use.
Toward those ends, we are excited about our ongoing work in the field of science, technology, engineering and mathematics education. Our Space Foundation Discovery Center is the most obvious expression of this crucial part of our mission. We are constantly working with our partners in industry and education to develop the world class mathematicians, engineers, physicists, scientists, and explorers we all need for tomorrow.
Gen. William L. Shelton, USAF (Ret.), Space Foundation Board of Directors, Vice Chairman; Former Commander, Air Force Space Command
---
Find more Big Ideas for Colorado Springs in our Spring 2017 print issue.